【Product name】: Rhodiola Rosea Extract, Latin name: Rhodiola Rosea(Prain ex Hamet)Fu)
【Plant origin】: The dried rhizome of the rhododendron rosette.
【Product appearance】: brown and yellow powder.
【Active ingredient】: Rosavin and salidroside.
【Product specification】:Rosavins3%&salidroside 1%、Rosavins 5%&salidroside 2%
Rosavin
【Molecular formula】: C20H28O10.
【Molecular weight】: 428.43032.
【CAS No.】 : 84954-92-7
【Detection method】:HPLC
【Formula】:
Salidroside
【Molecular formula】: C14H20O7.
【Molecular weight】: 300.304.
【CAS No.】 :10338-51-9
【Formula】: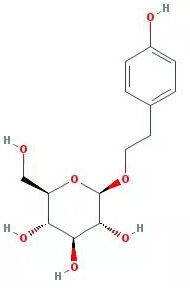 Description
---
Rhodiola Rosea Extract is a voluble medicinal plant mainlu produced in the mountains of Tibet, Xinjiang, Gansu and Jilin, China, belonging to Rhodiola family, a kind of perennial plant. Its root and rhizone are taken as medicines(Both the aeriol part and underground one of it can do) salidroside and its aglycone along with the tyrosol in the liquid extract are the special health care product used to take care of the personnel who are working professionally under particular circumstances, they also resist agaiinst fatigue.

It inproves your ingelligence and health as well as the working efficiency as ginseng does. However, it is preferable to ginseng which is too stimulant to be taken in the long run. It can treat cardio-cerebrovascular vein diseases, omsuption, lung inflammation and antagonize Oxygen-deficiency.

Application Filed
---
1. Applied in food fields, it is widely used as functional food additive;

2. Applied in health product field, it can be used as raw material in health food, the purpose is to enhance immunity and resist melancholy;
3. Applied in cosmetics fields, it is widely used to delay aging and compact skin;
4. Applied in pharmaceutical field, it is widely used to treat cardio-cerebrovascular disease.