【Product name】: Epimedium Extract, (Latin name:Epimedium Brevicornum Maxim)
【Plant source】: epimedium brevicornum maxim, epimedium sagittatum(sieb. Etzucc.)maxim.
【Product appearance】: brown and yellow powder.
【Active ingredient】: icariin.
【Product specification】: icariin 5%, 10%, 20%, 50%, 60%, 80%, 98%
【Detection Method】: HPLC.
Epimedium glycoside

【Molecular formula】: C33H40O15.
【Molecular weight】: 676.66
【CAS No.】: 489-32-7
【Formula】: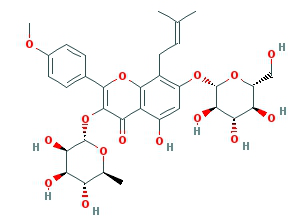 Description
---
Epimedium is a herb (Horny Goat Weed, Herba Epimdii, Icariin, Yinyanghuo, Fairy Wings, Rowdy Lamb Herb) that is known for being an aphrodisiac and touted as a men's sexual organs booster. It is also sometimes referred to by its active ingredient, Icariin. Icariin is known as a prenylated flavonoid compound and has been shown to exert much of the aphrodisiac effects of Horny Goat Weed.


Application Filed
---
1. Applied in pharmaceutical field, it is mainly used as pharmaceutical materail to treat asthenia of kidney, impotence, etc.

2. Applied in the field of health care products, it was used in capsules, health food, oral liquid, health care wine.